Easiest Way to Prepare Yummy Chicken Breast and Thigh Stir Fry Mix
Chicken Breast and Thigh Stir Fry Mix. Today's stir-fry recipe features boneless, skinless chicken thighs. A tastier alternative to skinless chicken breast, chicken thighs tend And while the thigh is slightly higher in fat, they're leaner that you might think. Compare a skinless breast to a skinless thigh and the difference in artery-clogging.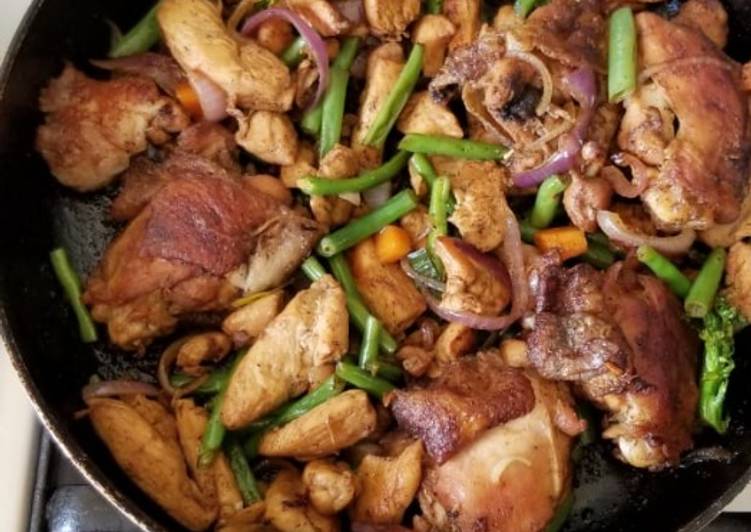 Using boneless skinless thighs keeps this chicken stir fry tender & tasty, but you can also make it with chicken breast if you have it on hand. If you have a protein and a veggie on hand, you have the basic building blocks for so many different weeknight dinners. Case in point, today's quick & easy stir fry. You can cook Chicken Breast and Thigh Stir Fry Mix using 9 ingredients and 6 steps. Here is how you achieve that.
Ingredients of Chicken Breast and Thigh Stir Fry Mix
It's 1 pack of chicken thighs.
Prepare 1 pack of chicken breast.
Prepare 2 of onions.
Prepare 2 tbsp of garam marsala.
Prepare 2 tbsp of black pepper.
It's 1 tsp of paprika.
You need 3 tbsp of soy sauce.
It's 1 pack of veggie mix (French beans, brocolli, carrots).
It's of Oil for frying.
Looking for stir fry chicken breast recipes? This Satay Chicken Stir Fry is a firm favourite at my local Chinese take out! Made from scratch and easy to make, this will satisfy your satay craving! I like to use chicken thigh for stir fries because it's juicier than breast and tenderloin.
Chicken Breast and Thigh Stir Fry Mix step by step
Chop chicken breast into strips. Add to bowl with chicken thighs, paprika, garam Marsala, salt, soy sauce and black pepper. Marinate overnight.
Add the chicken breast to pan, add a little oil and start frying. Cover to cook and keep frying until the chicken breasts are cooked.
Add the chicken breast strips and fry until cooked.
Add the veggie mix and more salt if need be.
Stir fry until veggies fried but still crunchy.
Serve immediately.
If I make this with chicken breast, I always tenderise it using a. Slice chicken breasts crosswise into ½"-thick strips. Season with salt and sprinkle with sugar. We also spiced up at the end with chili garlic sauce. Because I love spice, I might consider adding a couple of dried chiles to this stir fry next time.